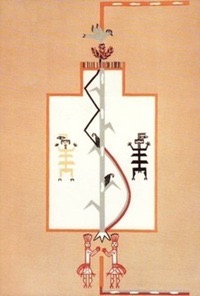 We all ways seem to address boats as 'her' for reasons that are lost in history so I will continue with this tradtion even while feeling a little sense of disquite in that I'm in some way being being sexist. Off course the Mother image has all ways been one of protection, nurturing and caring and that is what our boats do I guess, keep us safe in storms and protect us from adverse weather. Be it cold wet wind or hot sun she is there to provide shelter, shade and succor in times of need just like my mum used to do for me.   
The original owners and builders of Pollen Path were Randy Durbin and Laura Hacker-Durbin. 
Written by Laura, the story below is about the first 20 years of Pollen Paths' adventures up until I bought her in May 2011. With her kind permission I have edited and changed the story to the 3rd person viewpoint.   
Our Boat
After seven years of construction, Pollen Path was launched amid great fanfare with a sister ship in 1991. The hulls of the two ships were identical but the rigs and interior layout were completely different. Randy and his wife, Laura, set off on their adventures in 1992 from Martha's Vineyard, USA. Nearly 20 years and some 50,000 sea miles later they found  themselves caught in an eddy in South East Asia. Through stormy weather and prolonged calms Pollen Path looked after them very well. Over the years they had put her through her paces. In light airs and off the wind she sails like a dream; to windward is hard work for all. The goal was to keep the boat simple and in the early cruising years they had little need for complex systems. To some Pollen Path is somewhat unconventional but she is perfect for a cruising couple. Over the years as needs have changed, some modifications and additions have been made to the boat. The most recent being a Profurl Roller for the head sail and a Lowrance chart plotter and HDS radar fitted in January 2012.
The Design
Simplicity and budget combined with youthful ideals influenced the design decisions.  Pollen Path is a modified L. Francis Herreshoff ketch (Lines #107) rigged as a Cat with a wishbone. The Herreshoff design was modified by a Kiwi friend of Randys' who had sailed  around the world in his own version of the design. She is 40 feet on deck, 9.6" beam and draws slightly less than 5'; the rig is freestanding. The hull is cold-moulded Canadian Red Cedar, with the cabin sides, hatches and interior a mixture of teak and other woods. Rather than an inboard diesel engine she has a 9.9 Yamaha 4 stroke Outboard that sits in a well just aft of the Aft Mast. 
For electricity Solar panels provide adequate power to meet basic needs, while at anchor the use of a wind generator, and at sea a towing generator, provides extra power when needed. 
She has self-steering capability utilizing a trim tab on the main rudder with an Auto Helm 4000T hooked on to the second tiller of the trim tab. A very simple system involving very little power drain
The Afterdeck and Accommodations
An excellent feature of the ketch is the large (2.5mx4m) flush teak afterdeck.
There is no conventional cockpit, only a well at the tiller. The deck is a great space to spread out and relax on cushions to read, lay out various projects, practice yoga and most importantly for cruisers, to entertain. We can accommodate a large group—in New Zealand there were 50 cruisers on board for a Christmas cocktail party! With awnings in place, the deck adds an extra "room" to the boat. The accommodation was designed for a couple.  The main Master bunk occupies the forward end of the boat. Two settees serve as excellent seaberths. Given her narrow beam, a surprising amount of gear can be stowed on board. The double aft bunk can be used as a berth in very cool climates but generally serves as an excess baggage locker. Bicycles, beanbags, spare engines, food stores, dive gear and Christmas decorations occupy most of the space. Under the forward bunk is stowage for a number of tools, in addition to the chain and rode. There are numerous lockers and secret stowage spots on board. Provisions for a six month cruising season were stowed without much bother. The interior tanks, located under the starboard and port settees, hold nearly 130 gallons of fresh water; plus 30 gallons in jugs on deck. Plastic boxes of extra parts fit neatly on top of the water tanks. Spacious lockers on the after deck hold an assortment of petrol tanks and containers as well as requisite buckets, fishing gear and dinghy bits while at the stern two lazarettes contain large propane bottles.
Creature Comforts
A roomy galley is located at the bottom of the ladder on the port side. There is three ring propane stove with a full size oven. Laura is a keen cook/baker and while they cruised many a chocolate cake emerged in splendid glory from that oven! Deep storage is located behind and underneath the stove/bench top.  There is no refrigeration—until they reached the tropical climes of South East Asia there was no real need for a fridge. Laura bottled meat, made yogurt on a daily basis and no fridge meant they grew to thoroughly appreciate an icy cold drink in port. On arrival in Malaysia a large ice box was purchased, this fits neatly in the cockpit and it is easy to find ice along the way.. Across from the galley is a comfortable table and space for a navigation station. The table is full size for charts and can accommodate a laptop computer for electronic navigation. The forward head is small but functional. There is no interior shower but a solar shower has sufficed over the years.
Sailing Characteristics and Performance
Herreshoff designed this ketch as a downwind cruiser. Generally, we try to remain off the wind at all times as that is what the boat and the crew prefer. We generally use a variety of sails to maximize the boat's performance. In stronger winds, she sails well under mainsail alone as it is quite large and has three reef points. Other sails range from an assortment of headsails, mizzen staysails and a spinnaker. This allows us to make the most of the wind conditions. 
Sailing routes
The 3,000 mile crossing from the Galapagos to the Marquesa Islands took 23 days. A week passed with the spinnaker flying day and night, the boat was more comfortable than some  of the anchorages visited. A passage from Vanuatu to New Zealand is about 1,200 miles and  one year it took 14 days to make that passage as the winds ranged from 2-15 knots.They  managed to keep Pollen Path moving along though it all—at one point flying the main, mizzen, #1 jib, mizzen staysail and topsail and managing to maintain a brisk 2 knots. The Pollen Path philosophy is to keep the boat moving and enjoy life, while at sea an extra day is often of no consequence.
There have been times when one might have wished for a diesel engine but overall, the Yamaha Outboard served quite well. It has been replaced every seven years. Although Pollen Path can motor at 5 knots on a flat sea the engine is primarily used to motor in and out of anchorages. The Malacca Straits was the first area where it was nescessary to rely heavily on the Yamaha as there was no breeze at all on some days. For up to nine hours at stretch the outboard did well. The same is true in Phang Na Bay in Thailand—in this area motoring is a daily occurrence.
Pollen Path
Pollen Path may not have some of the bells and whistles found on other cruising boats but She has beauty, integrity and heart. Randy and Laura were never disappointed by the boat and each time they felt incapable of reaching a destination, getting into a tricky anchorage or keeping pace with faster boats, Pollen Path came thru and proved her mettle time and time again.